Today is early release. School is released at 3:08 pm and buses will run at 3:15. We do this for professional development for our staff.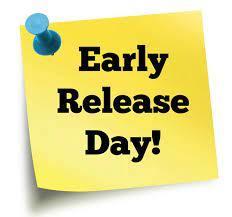 Happy Holidays! Students are dismissed this Thursday, December 17th at NOON for Winter Break. There is NO SCHOOL from December 18th through January 3rd. Enjoy your time off. School will resume on Monday, January 4th.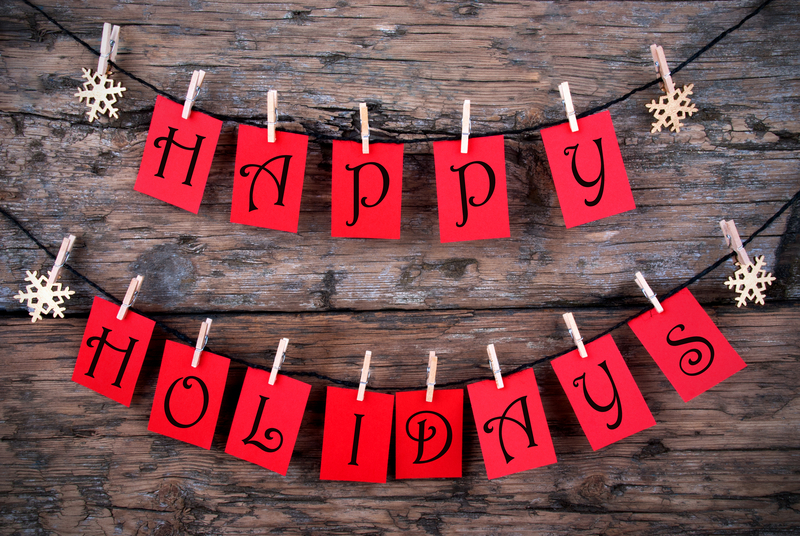 Don't forget about the FFA live sale at 5:30 pm on Facebook live. There are some great items for sale.

This is an event you don't want to miss. Please support our FFA on Thursday, December 10th. Visit our North Powder Facebook page at 5:30 p.m.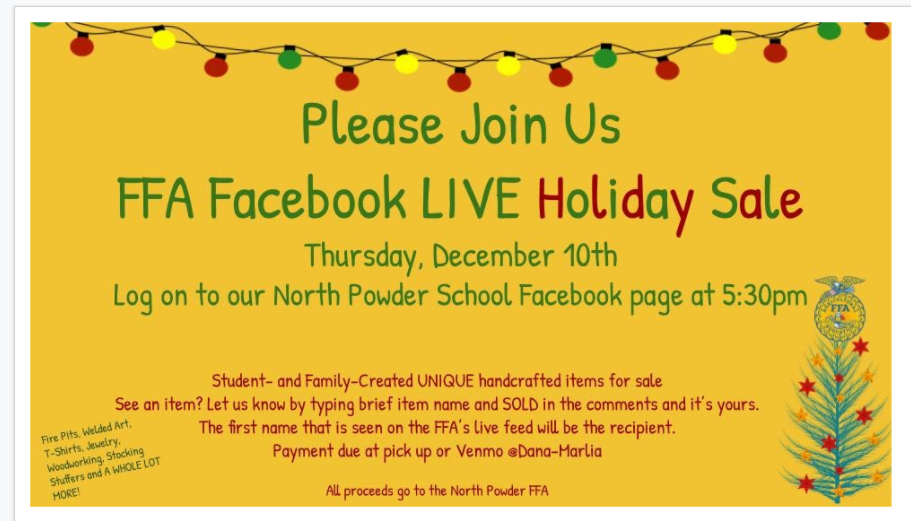 Do you know an amazing Education Support Professional or Teacher in your school district? Nominate them for an Oregon Department of Education Award: 2021 Education Support Professional of the Year – Nominations accepted through January 3, 2021. Nomination Link:
https://oregonteacheroftheyear.org/nominate-esp/
2022 Oregon Teacher of the Year – Nominations accepted through January 31, 2021. Nomination Link:
https://oregonteacheroftheyear.org/nominate/
Anyone – administrator, teacher, staff, student, parent, community member – can nominate an individual for these two awards. For more information, please visit:
https://oregonteacheroftheyear.org/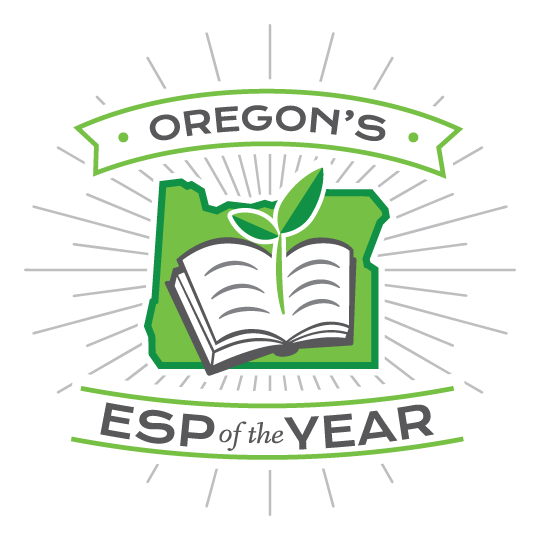 We are in need of a part-time para pro. Please check out the flyer and contact the office if you have any questions. Thank you!

Happy Thanksgiving! The North Powder School District will be closed Wednesday, November 25th and 26th for Thanksgiving break. Have a wonderful few days off. See you back on Monday, November 30th.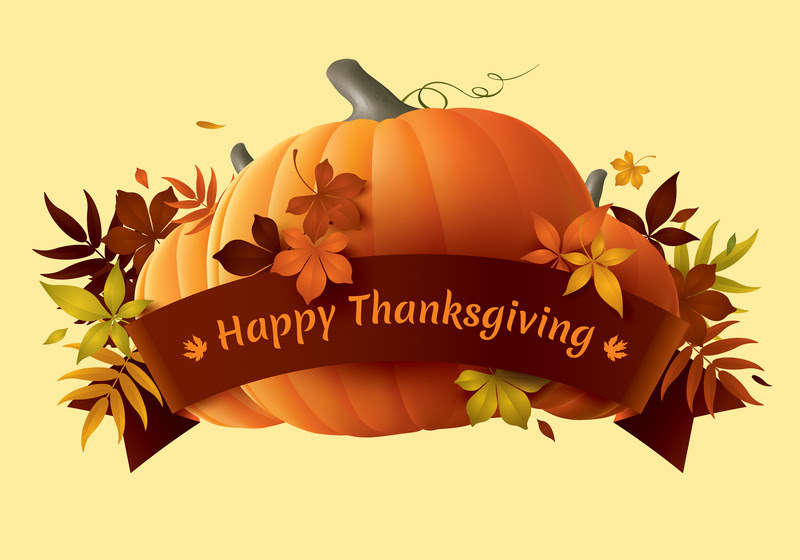 November 13, 2020 Dear North Powder School District Parents, Students and Caregivers, I hope everyone is doing well. I know these are trying times for all of us. I know the governor's announcement today probably has many of you concerned. However, today I am bringing good news your way. This has no impact on schools at this time and on-site instruction will continue. There are two exceptions: Indoor sports are on hold at this time. This means no after school sports or private sports in indoor facilities. If you travel out of state for the holiday, you should self quarantine for 14 days and participate in CDL. Please, please help us stay open with students. Regardless of personal preference, we have demonstrated the ability to limit cases at school. Therefore, please follow travel restrictions, quarantine if you travel out of state to see families over the holidays and practice using personal protective equipment and social distancing. The district is required to add a travel question to screening and enforce students quarantining out of school if they travel out of state. As I see schools around us in CDL struggling dramatically with grades and other issues tied to CDL, I am ever so thankful we are in school!! Our students did exceptionally well overall academically the first 9 weeks. To lose what we have worked so hard to provide for children would be tragic. I know it is not easy, but it is up to each of us to do our part for our kids! Thanks for your patience, support and commitment to your children, this community and this school. This community has always been resilient, supportive and a great place to live. I feel fortunate to have raised my children here and hope we will continue to do our part to help all kids succeed. This includes keeping school open. Respectfully, Lance L Dixon Superintendent Molly Smith Principal
November 11, 2020 Dear Families, We are hosting "Badger Day" on Monday, November 16th. Badger Day is going to be a two hour session for our middle school students and high school students working on building empathy and compassion within our school. New Directions Northwest will be leading our two hour separate sessions. Our goal of this is to build our school community to help create a space where everyone feels safe. We realize that we have had an issue with bullying, and instead of tearing each other apart, we want to build each other up in order to become our best selves and best school environment. The two hour session will consist of interactive learning exercises, followed by small group interactions with a counselor from New Directions. Our middle school students will attend Badger Day from 8:00 a.m. - 10:00 a.m., followed by our high school student body from 10:00 a.m. - 12:00 p.m. Staff will be in on all sessions with our students as well. We look forward to the day and bringing our student body together to be the best community we can be. Sincerely, Lance Dixon, Superintendent Molly Smith, Principal

Parent/Teacher conferences are happening Thursday, November 12th. There is no school for students. If you have not heard from your child's teacher, please contact your teacher or school for details.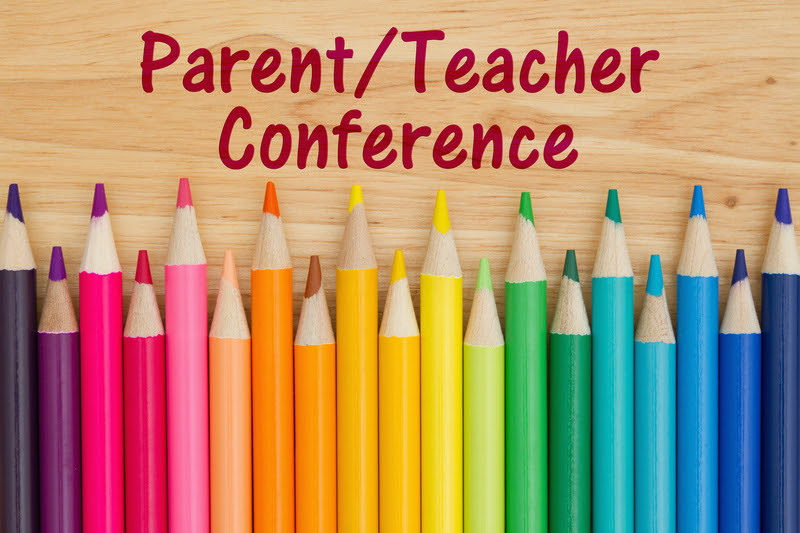 The North Powder School District will be closed on Wednesday, November 11th in observance of Veterans Day. This means ALL Virtual and In-Person Instruction will not occur.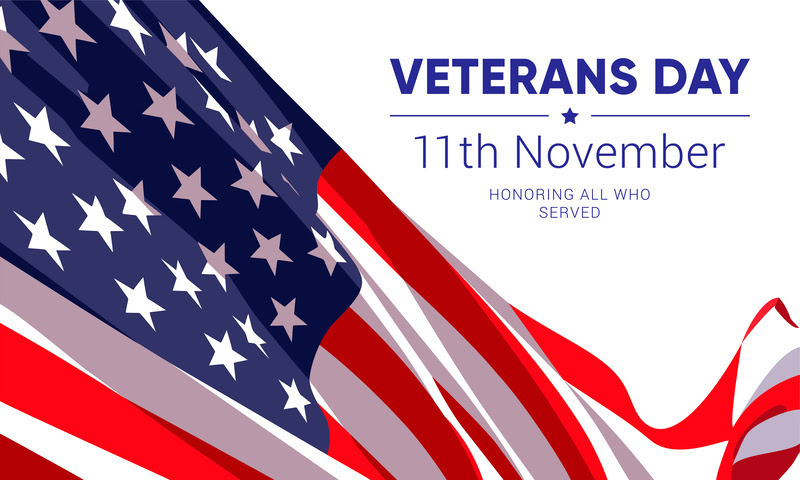 Schoolwide KINDNESS Challenge Will you jump on board and help kick off November with a schoolwide KINDNESS Challenge? We are encouraging all staff and students to take the Kindness Challenge How can you spread kindness to encourage others to do the same?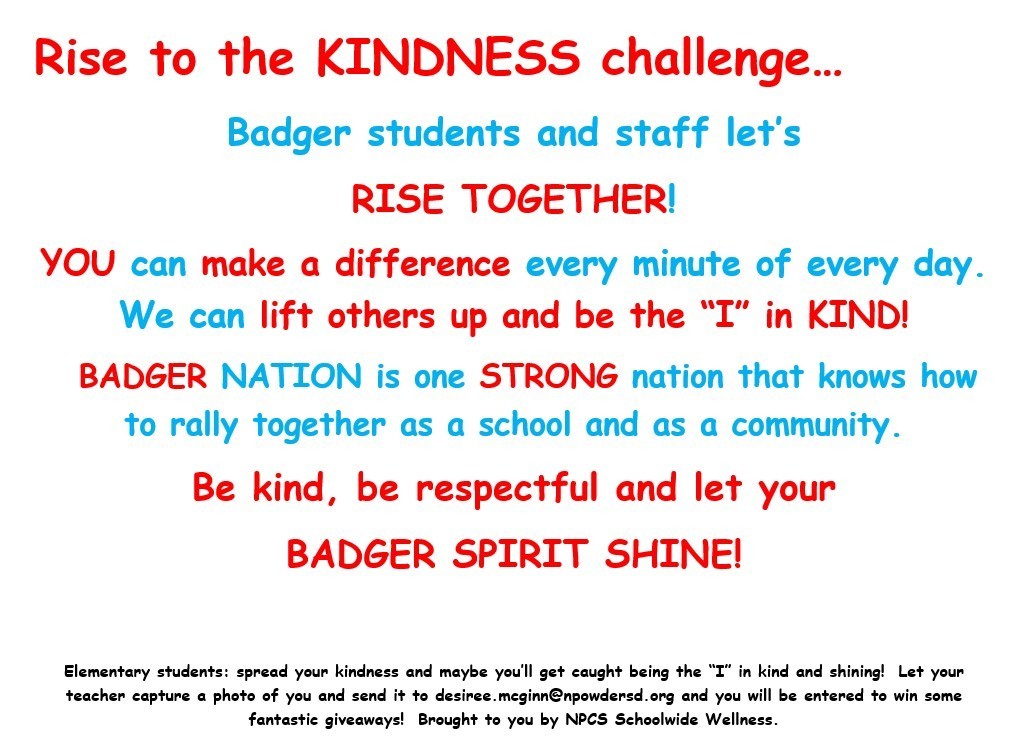 This is a message to let families know that the health department will be coming Tuesday, November 3rd to give flue shots and vaccines. If you would like your child to receive a flu shot or have needed vaccines, please fill out a consent form located in the high school office with a copy of OHP or a copy of both sides of the insurance card. Students will be taken out of their afternoon classes to have the vaccine given. Unfortunately, parents cannot join students for this. If you have any questions, please contact Stacy Bingham. Thank you.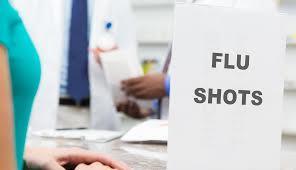 We will not have school on Veteran's Day, which is Wednesday, November 11th. Parent/teacher conferences will be on Thursday, November 12th, thus no school that day for students. Conferences will be held virtually, either by a phone call, google meets, or zoom. Please watch for information from your child's teachers. Please call the school if you have any questions.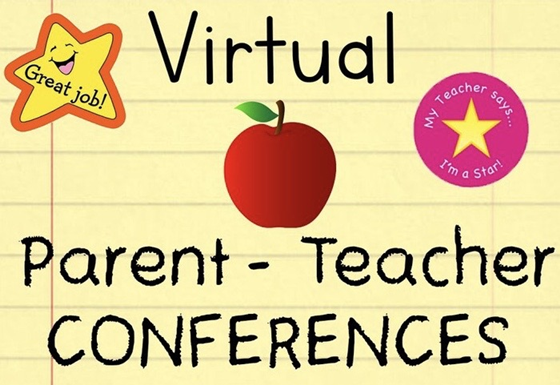 Tomorrow, Wednesday October 21st is our early release. School will be out a bit after 3 and buses will run around 3:15 p.m. We use this time for professional development for our staff. If you have any questions, please call the office. Thank you!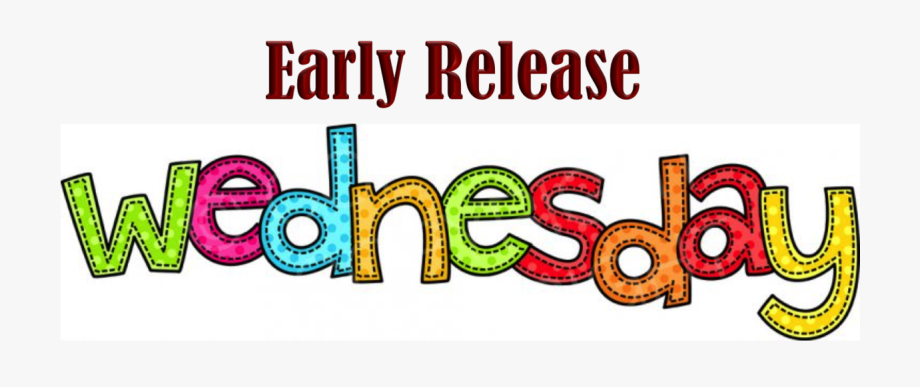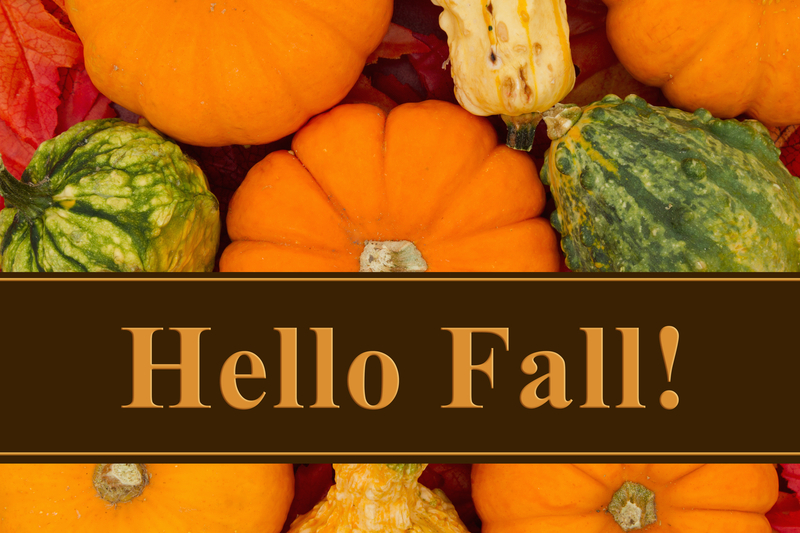 America's Safe Schools Week is October 18-24, 2020. Oregon students can always access SafeOregon, the statewide Oregon tip line, at this link:
https://www.safeoregon.com/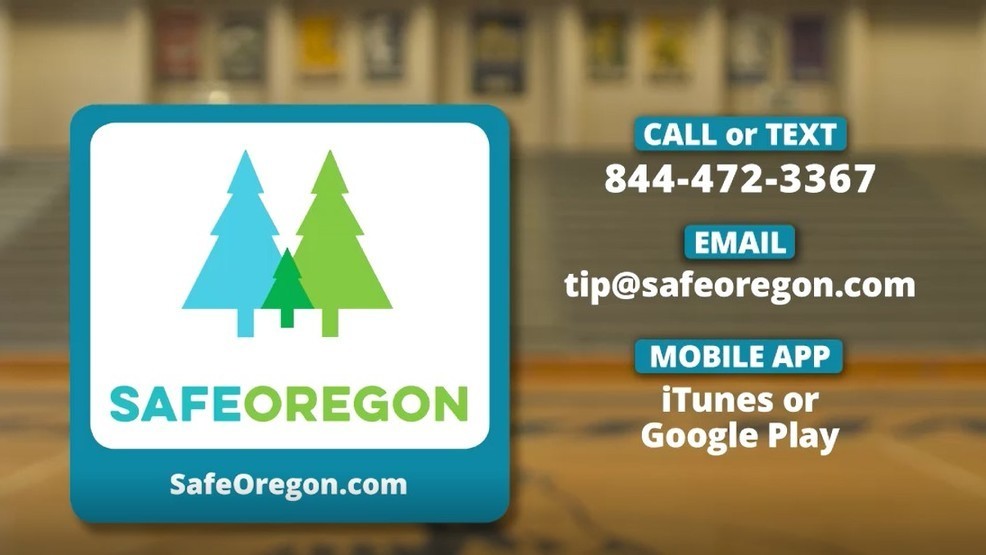 We are in need of substitutes for cleaning, in the kitchen, as well as in the classroom. If you are interested in getting on our substitute list, please call Mrs. McGinn or Mrs. Turner. 541.898.2244 ext. 8821 or 541.898.2373. Thank you!